Article (PDF Available) · January with 42 Reads. Export this citation. Jan Krikken at Naturalis Biodiversity Center · Jan Krikken. Naturalis. A second species of Platygeniops Krikken, (Scarabaeidae: Cetoniinae: Trichiini: Osmodermatina) is described from the Myanmar-Thai-Malay isthmus and. A series of. taxonomic publications on Asian. Bolboceratinae were then made by Krikken. (ab, ab, , , ), Carpaneto.
| | |
| --- | --- |
| Author: | Nizragore Mauzshura |
| Country: | Venezuela |
| Language: | English (Spanish) |
| Genre: | Education |
| Published (Last): | 7 November 2007 |
| Pages: | 413 |
| PDF File Size: | 4.3 Mb |
| ePub File Size: | 3.54 Mb |
| ISBN: | 986-1-36966-931-3 |
| Downloads: | 88699 |
| Price: | Free* [*Free Regsitration Required] |
| Uploader: | Akim |
Photo by Brett Ratcliffe.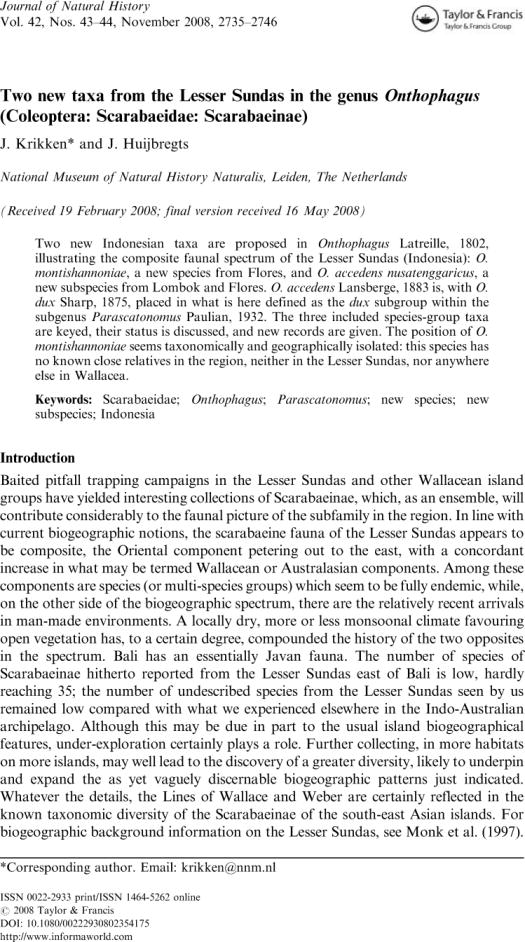 Krikken has previously been a prolific worker primarily in the Cetoniinae and Geotrupidae. For about the past 20 years he was heavily engaged in administration at the Natural History Museum in Leiden, and so he has not been recently active with scarabaeoid research.
In his last communication to me, he indicated he prefers not to be contacted by anyone reading this announcement. Dung beetles in tropical forests in South-East Asia. Overzicht van wijzigingen in de lijst van Nederlandse kevers Miniature scarabs of the genus Haroldius on Sulawesi, with notes on their relatives Coleoptera: Tijdschrift voor Entomologie First record of the genus Amphistomus from the Moluccas.
Taxonomic diversity kgikken the genus Ochicanthon in Sundaland Coleoptera: Blind, flightless termitophiles of the genus Termitotrox in East Africa: Two new species from Kenya in the physogastric termitophilous genus. Termitoderus Coleoptera Scarabaeidae Aphodiinae.
Two new taxa from the Lesser Sundas in the genus. Journal of Natural History Sulawesi large-eyed Onthophagus and their relatives: Distinguishing the Sundaland species in the Onthophagus. Parascatonomus aurifex group Coleoptera: A remarkable new two-horned species of Onthophagus from. Onthophagus pilularius and its close relatives in Sundaland: Indognorimus and Indotrichiusnew genera for South Asian Trichiini: A new Haroldius Boucomont and a new Tesserodon Hope from.
Taxonomic review of the Afrotropical genus Dicronorhina. Hope, with notes on its relatives Coleoptera: Termitophilous scarabs of the tribe Corythoderini: Comments about this site can be sent to Brett Ratcliffe Site generated on: Sulawesi Onthophagus with paraocular 19778 The characters of Cyobius wallacei Sharp, a little-known onthophagine scarab from the Malay Archipelago Coleoptera: A new species of the African genus Genuchus Kirby Coleoptera: Species of the South American genus Lomanoxia Coleoptera: Studies Fauna Suriname A new species of Platyonitis Janssens from Kenya, with notes on the genus Coleoptera: Cremastochilodius tristisa new scarabaeoid genus and species from Brazil.
Protoclita Krikken, 1978
Telochilus freyia new genus and krikkeen from Nigeria Coleoptera: Elephastomus carne i, a new species from Queensland Coleoptera: New orikken of New World Cremastocheilini, with revisional notes Coleoptera: Taxonomy of the African genus Placodidus Peringuey Coleoptera: New cremastochiliform genera from Africa Coleoptera: Notes on African Onitini, mainly from southeastern Kenya Coleoptera: New bolboceratine genera from southwestern Africa Coleoptera: Some new and otherwise noteworthy species of Onthophagus Latreille from the Indo-Australian archipelago Coleoptera: The Asian genus Pleuronota Kraatz and allied forms: The genus Bolbelasmus Boucomont in Asia, with notes on species occurring in other regions Coleoptera: Notes on Asian cremastochiliform genera, with descriptions of two new species Coleoptera: A reappraisal of the Krikkej iphicles Kolbe from southwestern Africa Coleoptera: Asian bolboceratine scarabs of the genus Bolbogonium 19978 Coleoptera: A new bolboceratine krikkeh from Angola Coleoptera: Additional species in two African genera hitherto considered monotypic Col.
Interessante Aphodius -soorten Coleoptera: Aphodiidae uit mest van Nederlands grofwild. A new Plectrone from the Philippine Islands Coleoptera: The Afro-Asian Bolboceroides validus group Coleoptera: Taxonomic notes on Bolboceras indicum Westwood and its relatives Coleoptera: Platygeniopsa new osmodermine genus from Southeast Asia Coleoptera: Some peculiar cetoniine beetles from South West Africa.
New and otherwise noteworthy cetoniine beetles. Taxonomic review of the Afrotropical genus Hypselogenia Burmeister Coleoptera: The genus Bolbocerosoma Schaeffer in Asia Coleoptera: Suralcis Machatschke, a remarkable genus of African ruteline chafers. A new Placodidus from Angola Coleoptera: Bolboceratine scarabs of the Oriental genus Bolbohamatum nov.
New cetoniine taxa from Africa and Asia Coleoptera: A new Coenochilus from southern Africa Coleoptera: Taxonomic reviews of three small cremastochiliform genera from Asia and Africa Coleoptera: A peculiar new cetoniine beetle from Lombok. Geotrupidae from the Nepal Himalayas.
Mimobolbus (Bolboceratops) imitator Krikken
jrikken New flightless species of Geotrupes Latreillewith a biogeographical discussion Insecta: A new species of Onthophagus Latreille from Sumatra Coleoptera: New species of Taeniodera from the Sunda Islands Coleoptera: The genus Heteroclitopus Peringuey in Kenya Coleoptera: New genus-group names in the family Cetoniidae Coleoptera.
A new Clinterocera from Borneo Coleoptera: North American myrmecophilous beetles of the genus Cremastocheilus: Some unusual genera and species from Africa Coleoptera: A new genus and species of cetoniine beetle Col. The little-known Afrotropical genus Trichocephala Moser, with notice of a second species Coleoptera: An interesting case of camouflage in African dung-beetles of the genus Drepanocerus Coleoptera: A generic reclassification of the Afrotropical Bolboceratini Coleoptera: A new genus of small Goliathini from East Africa Coleoptera: A new Ingrisma species from Hainan Coleoptera: A new key to the suprageneric taxa in the beetle family Cetoniidae, with annotated lists of the known genera.
A new Centrantyx from Ethiopia, with notes on the genus Coleoptera: Provisional checklist of the Valginae Coleoptera: A third valgine species from the island krikkej Sulawesi Coleoptera: A new species of the dung beetle genus Synapsis Bates from Borneo, with notes on its relatives Coleoptera: Large-eyed Onthophagus species of Sundaland: A taxonomic review, with descriptions of four new species Coleoptera: Het vliegend hert Lucanus cervus Linnaeus in Nederland.
Samuel Constant Snellen van Vollenhoven and his entomological work.
First record of the genus Amphistomus from the Moluccas Coleoptera: A neglected trichiine beetle from Costa Rica Coleoptera: Zoologische Mededelingen Leiden Two new species from Kenya in the physogastric termitophilous genus Termitoderus Coleoptera Scarabaeidae Aphodiinae.
Two new taxa from the Lesser Sundas in the genus Onthophagus Coleoptera: Distinguishing the Sundaland species in the Onthophagus Parascatonomus aurifex group Coleoptera: A remarkable new two-horned species of Onthophagus from Borneo Coleoptera: Taxonomic review of the Afrotropical genus Dicronorhina Hope, with notes 1798 its relatives Coleoptera: